H.G.H. Youth Complex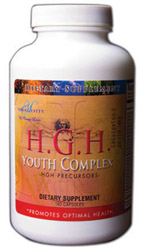 Youngevity's world renowned product formulators have produced a proprietary formula to stimulate the release of HGH in your body, to slow aging. To make this proprietary formula even more synergistic, we've added our patented Vilcabamba Mineral Essence®.
Dr. Ronald Klatz, M.D. states in his books Grow Young With HGH and Stopping The Clock, the benefits of increased HGH are:
---
Printable supplement facts for this product
Lose fat, gain muscle
• Increase energy level
• Enhance sexual performance
• Improve skin elasticity
• Improve vision
• Improve quality of sleep
• Improve cholesterol profile
• Promotes optimal health and well-being
• Promotes healthy cardiovascular function
The Benefits of our Premium H.G.H. are unbelievable. Many of our customers have commented that within 3 days they feel a deeper sleep. Within 20 days they notice that their muscles are firm & they feel less fat. Within 30 days they have noticed a heightened sexual desire
Take 6 Capsules Daily At Bedtime..
---
Code #: 50223
Shopping Cart
---
H.G.H. Youth Complex