Dr. Joel Wallach, BS, DVM, ND

---

Ultimate PROST Fx™ Item #: 20682

Youngevity Vitamins And Capsules
Supplement Facts
Order On-line
Go to Shopping Cart

Prost FX #20682-60 Capsules

Ultimate PROST FX™


Prostate Gland Nutrition. by Dr. Joel Wallach

Ultimate Prost FX™ was developed for nutritional support of the prostate gland. An excellent product for men who are looking for a nutritional answer for optimal prostate health containing :

Saw Palmetto Berry, Horse Tail, Pygeum, Pumpkin Seed Standardized, Siberian Ginseng, Gingko, Selenium, and much more!

Prostate Health is important to every male.

One bottle provides enough for a one month supply. Suggested use is 1 - 3 capsules per day or as directed by your Health Care Practitioner.

For best results, we suggest using this product as part of a full Spectrum nutritional program, that also includes Majestic Earth Minerals, Majestic Earth Ultimate or Ultimate Daily.

Ingredients: Ultimate Prost FX ingredients listed below are used because each has a significant scientific evidence supporting it's use.

DIRECTIONS: Take 1 capsule twice daily or as directed by your healthcare professional.

WARNING: If you are pregnant or nursing, taking MAO inhibitors, or have a cardiac or renal dysfunction, consult your healthcare professional before using this product. KEEP OUT OF THE REACH OF CHILDREN..

Printable supplement facts for this product

Prost FX #20682-60 Capsules-

Click To Order:

Go to Shopping Cart

Toll Free 1-888-441-4184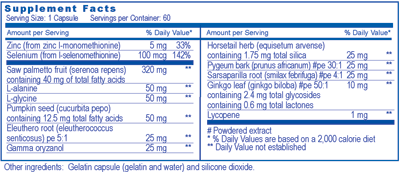 Dr Wallach's Colloidal Mineral Nutritional Product Line from Youngevity.
Pig Pak Plus by Dr. Wallach and Youngevity
Herbal remedy by Dr. Joel Wallach
Bone Builder Formula by Dr Wallach and Youngevity
Doctor Wallach's Weight Management System.
Herbal remedy Dr. Joel Wallach Majestic Earth